Garden Cat

Vital statistics

Position
Unknown
Age
Unknown
Status
Alive
This
cat
is seen in the
Tome of the Unknown
. It lives in
the Garden
with
John Crops
. It is seen crying when John Crops is singing at the beginning of Tome of the Unknown.
History
After Cabbage Gal moves into the country side with John Crops, it is seen to have stayed in the garden.
Apearance
The Garden Cat is a fairly round light brown small-eared tabby with dark brown stripes on its hind legs, face and back. It has a creamy-white face-mask with gray-cream stripes over its tiny, scrunched up eyes and cheeks. With a pink nose and small cream-white paws and tail-tip, this cat appears to be a classic musty tabby figure.
Gallery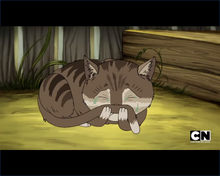 Ad blocker interference detected!
Wikia is a free-to-use site that makes money from advertising. We have a modified experience for viewers using ad blockers

Wikia is not accessible if you've made further modifications. Remove the custom ad blocker rule(s) and the page will load as expected.