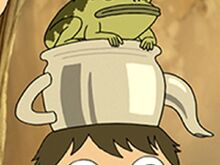 This object is seen in every episode of Over the Garden Wall and in the Tome of the Unknown short. Gregory wears this kettle on his head for his elephant Halloween costume. Greg's Frog often sits atop this kettle.
Appearance
It is a shiny silver tea kettle with a handle opposite its spout.
Ad blocker interference detected!
Wikia is a free-to-use site that makes money from advertising. We have a modified experience for viewers using ad blockers

Wikia is not accessible if you've made further modifications. Remove the custom ad blocker rule(s) and the page will load as expected.