"If you can't see it, put on your glasses!"
This article is currently a stub. You can help the Over the Garden Wall Wiki by adding onto it.
Janet Klein is the voice of Ms. Langtree. Janet Klien was raised in San Bernardino, California, during the 1970s, Klein learned about music by her father Stephen Klein, a teacher and avant-garde animator whose taste ran primarily to Frank Zappa and Classical. When Klein stepped into Los Angeles, her interest had grown in early jazz recordings and the graphic designs styles of the era.
Gallery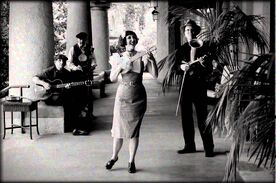 Ad blocker interference detected!
Wikia is a free-to-use site that makes money from advertising. We have a modified experience for viewers using ad blockers

Wikia is not accessible if you've made further modifications. Remove the custom ad blocker rule(s) and the page will load as expected.