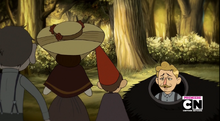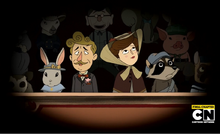 Jimmy Brown

Vital statistics

Position
Neutral
Age
35
Status
Alive
Jimmy Brown appears in Schooltown Follies and is the love interest of Ms. Langtree. Three days before Wirt and Greg enter the primary school, Jimmy kissed Ms. Langtree, who was in absolute love with him, and then disappeared (without leaving a letter for her). Unbeknownst to Ms. Langtree and her father, Jimmy got a job in the circus as a replacement Gorilla in order to make enough money to give her a wedding ring. After he made the money, he got stuck in the gorilla costume and couldn't get out of it because people were too scared of him to try. He is freed at the school's charity concert when Wirt trips on his shoelace and knocks him over, releasing the head from the rest of the costume. During the epilogue, Jimmy is seen sitting with Ms. Langtree at the circus along with her students and her father, Mr. Langtree.
Ad blocker interference detected!
Wikia is a free-to-use site that makes money from advertising. We have a modified experience for viewers using ad blockers

Wikia is not accessible if you've made further modifications. Remove the custom ad blocker rule(s) and the page will load as expected.