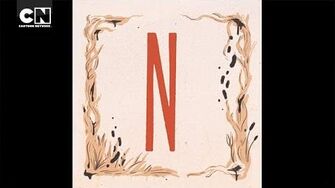 Potatoes and Molasses is a song that appears in Schooltown Follies. It is sung by Gregory, and the music is performed by Ms. Langtree and the School Animals. The song is later interrupted by Mr. Langtree at the end.
In The Unknown, a slower, more somber version of this song can be heard in the background.
Lyrics:
Oh, potatoes and molasses
If you want some, oh, just ask us
They're warm and soft like puppies in socks
Filled with cream and candy rocks
Oh, potatoes and molasses
They're so much sweeter than algebra classes
If your stomach is grumblin' and your mouth starts a-mumblin'
There is only one thing to keep your brain from crumblin'
Oh, potatoes and molasses
If you can't see 'em, put on your glasses
They're shiny and large like a fisherman's barge
You know you've eat enough when you start seeing stars
Oh, potatoes and molasses
It's the only thing left on your task list
They're short and stout to make everyone shout
For, potatoes and molasses
For, potatoes and-
-That's enough!
Ad blocker interference detected!
Wikia is a free-to-use site that makes money from advertising. We have a modified experience for viewers using ad blockers

Wikia is not accessible if you've made further modifications. Remove the custom ad blocker rule(s) and the page will load as expected.