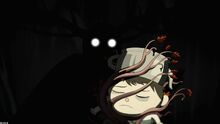 Background and Lyrics
In the episode "The Unknown", Wirt and Beatrice race into the forest to find a weak Greg entangled in edelwood roots as he turns into a lost soul tree. The Beast approaches them and tells Wirt that Greg is too weak to go home and is doomed to live in his edelwood forest, unless Wirt agrees to be the lantern-bearer. Wirt then uses the Woodsman's axe to get him out of the growing tree and perches him on his back as he journeys into the darkness. As this scene happens, we hear a much more somber version of the happy song Potatoes and Molasses, first sung by Greg in Chapter 3: Schooltown Follies. The lyrics are in Latin and are the following:
O potatus et molassus
Si velis eris quaereo nobis
Lenes et caldi baluti catuli
Plene cum petri dulcibus
O potatus et molassus
Velis eris quaereo nobis
Lenes et caldi baluti catuli
Potatus et molassus
Grow, tiny seed, you are called to the trees...
Meaning
The lyrics of the song, while set to the same tune and slowed down in tempo, roughly translate to the actual lyrics of the original song. The last line is sung by a chorus of children (whereas the Latin is sung by one person), and is the first line also sung by a chorus in the composer's cut of "Come Wayward Souls".
Ad blocker interference detected!
Wikia is a free-to-use site that makes money from advertising. We have a modified experience for viewers using ad blockers

Wikia is not accessible if you've made further modifications. Remove the custom ad blocker rule(s) and the page will load as expected.