The Fight is Over, sometimes referred to as Wirt's Anthem is a song featured in the beginning of Into the Unknown. The guitar solo of the song is replayed after Wirt and Greg leaves the football game before realizing that they left the tape Wirt was going to give to Sara to the girls.
Lyrics
The angels have gone
Songs have gone silent
You're sinking like a stone
Before
The tide.
The river runs cold
The fight is over
Still the haunted ruins of night call your name.
Interpretation
The track has been noted to bear a strong resemblance to the song "Ballrooms of Mars" by the English glam rock band T. Rex, from their seventh album The Slider, released in 1972.
Video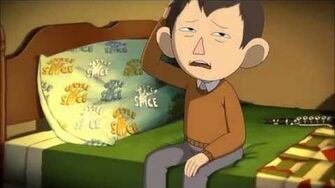 Ad blocker interference detected!
Wikia is a free-to-use site that makes money from advertising. We have a modified experience for viewers using ad blockers

Wikia is not accessible if you've made further modifications. Remove the custom ad blocker rule(s) and the page will load as expected.